Chemical Wood Treatment Hazards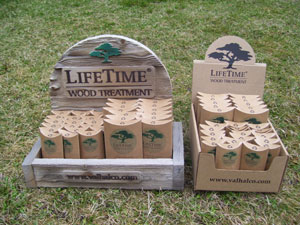 Governments and companies selling wood treatment products often state that current technologies are generally safe for use, but they note that it is safe, with proper personal protection and appropriate handling precautions. That, in itself, should serve as a warning that there is a safety concern with these products.
Wood treated with some products present hazards in circumstances where loose wood dust particles or fine toxic residues are generated. Even more hazardous are products which may come into direct contact with food or agricultural items, or which leech component elements out of the wood and into the soil.
Once common wood treatments, and wood treated with such products, were considered safe, but have since been pulled from stores due to toxicity and ease of uptake by plants and animals (including people). Components of such products have been linked to cancer and other diseases, and their use has been banned in many places. More recent wood treatment technologies contain extremely small elements. Such products are currently considered "safe" by regulatory agencies; but various groups express concern regarding exposure to engineered, "micronized" particles. There is debate amongst advocacy groups and governments on whether special regulation is needed. The safe alternative to such products is the use of an all natural environmentally friendly wood treatment. LifeTime® has been treating wood naturally for over 60 years and is friendly to people, plants and animals. Find out why LifeTime® is the safe choice for non-toxic wood stain.
Testimonials
"We find Mr. Wictorin's work to be very thorough and of high quality. The treatment products we have used have lived up to their claims and provided us with ..."

LifeTime® Wood Treatment
Can Be Found at: